Today's restaurant spotlight takes us over to the second floor of The Polynesian Village Resort where you'll feel as though you've been transported to a tropical island. There's a cool breeze flowing through, sounds of the ukulele strumming, sweet scents of pineapple and coconut and very soon you'll hanging with your "cousins," in what can only be called…food heaven.
A warm "cousin" welcome greets you as you step into 'Ohana, where everyone is family. After all, 'Ohana means family and family means no one gets left behind. Get used to being called cousin, it will happen several times over the course of your meal.
There's an open air grill in the center of the restaurant, children participating in coconut races and lei's being given out freely. You're entering a must-dine experience!
First, you'll be escorted past the bread station where your cousin host will tell you about the delicious coconut bread that will follow you to your table (if you make it there without eating it first!). Hopefully you have a prime spot for the Happily Ever After Fireworks (your awesome HEAT travel agent can help you arrange this!) near the windows. 'Ohana is a FANTASTIC location for the fireworks viewing. Did you know that the music is actually piped into the restaurant? Not only that, but the lights are dimmed and the mood is totally set for your enjoyment.
After your drink order has been taken (I suggest the Lapu Lapu for those 21 and older), the feast begins! First up is the salad course. Food is served family style here, so be prepared to share. You may not want to but keep in mind, you can always request more.
The salad is delicious, filled with lots of veggies and a wonderful Lilikoi dressing. Pace yourself!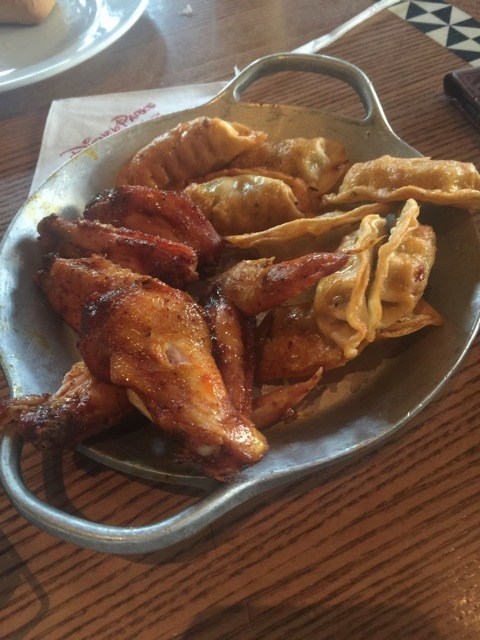 Up next is arguably the best part of this dining experience. Cousin will bring you a platter full of honey-coriander wings, pork dumplings and the most wonderful, most delicious Lo-Mein. Trust me when I say that this Lo Mein is one of the best. I've personally tried to recreate it but failed miserably! You'll also receive two sauces with your appetizer course: peanut and sweet and sour sauce. Honestly, these dishes are great on their own. The sauces add to the flavor but are definitely not necessary in my opinion! Once again, this is family style and should you run out of something you need more of, just ask your cousin.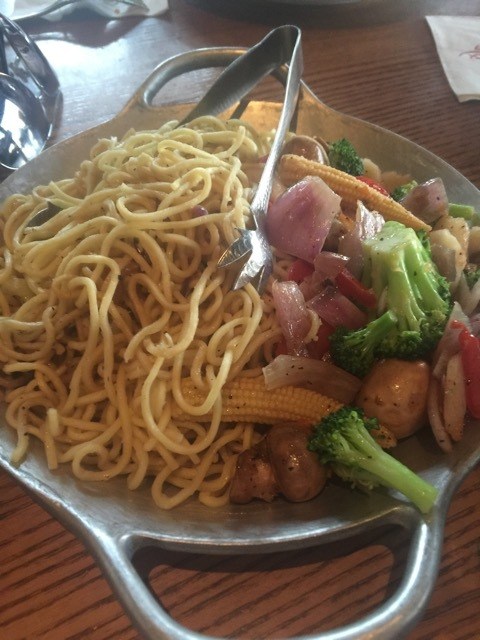 Grilled veggies are also offered here – as far as grilled veggies go, these are wonderful!
If you aren't yet full, the entrée round is next! If you've been to a churrascaria before, you are probably familiar with what's next. The servers will carry skewers of chicken, steak and shrimp to your table and generously slide portions onto your plate. Would you like your steak cooked longer?  Just let your cousin know and they will bring it back cooked to your preference.
You are full. They've given you the hot towel to clean your hands and you are sliding back into your chair…
Little did you know that the BEST dessert on Disney property is heading your way. This dessert can stand on it's own with no other food around. You are about to experience the famous 'Ohana Bread Pudding with Banana's Foster. This dessert makes all other desserts tremble in it's presence. I promise that it's humble appearance is nothing short of spectacular once you dive in. This is by far my most favorite dessert on Disney property and has been for many years!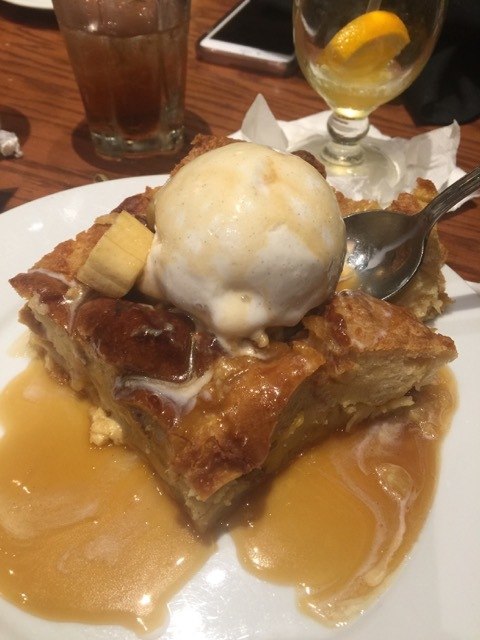 Can't eat gluten or have other allergies? Of course Disney can accommodate you! Please be sure to let your Cousin know so that you can be taken care of accordingly.
Are you stuffed? You probably need someone to roll you out. I often feel so incredibly full for nearly two days after I've dined at 'Ohana. Is it worth it though? ABSOLUTELY.
#YODOAD.
(Translation: You Only Dine Once at Disney)