Who loves to eat? (Raises hand) I know I do!
Eating on vacation is even better than eating at home, right? It definitely doesn't count because you are ON VACATION! I've spent quite a few years procuring my self-proclaimed status as a "Disney foodie" and am 100% confident that I can steer you in the right direction when it comes to all things food related. Whether you have the dining plan or not, I definitely think there is a scientific method to getting the best bang for your buck when it comes to dining in the Walt Disney World Resort in Orlando.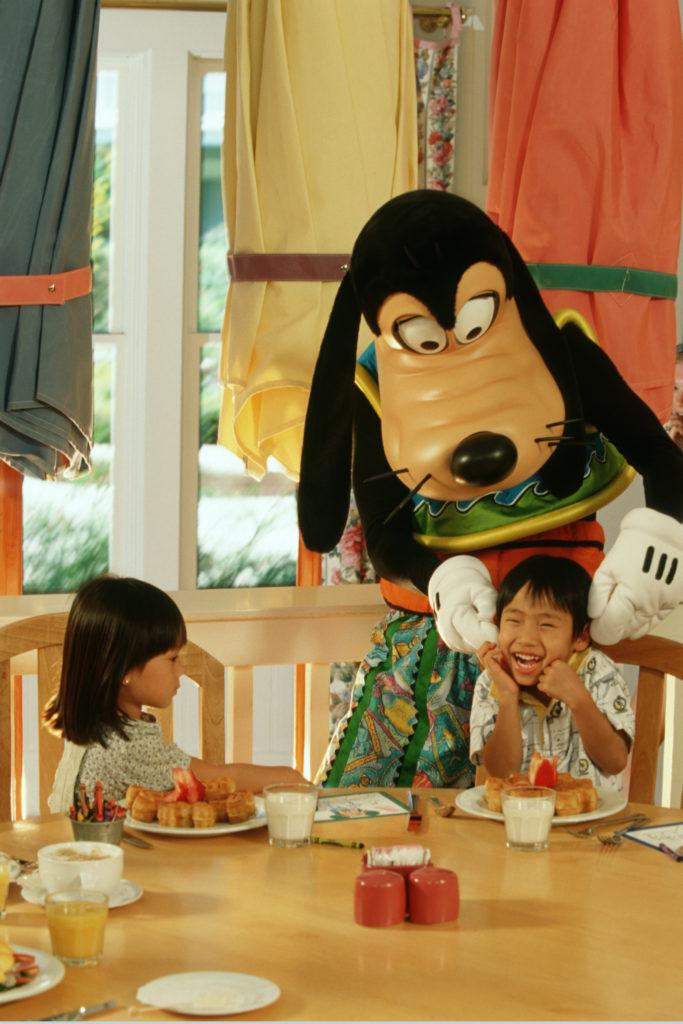 Though picking just 5 snacks to deem as the BEST in all of WDW is pretty near impossible, I'm doing my best to steer you in the right direction. It's basically like picking a favorite child! Who can do that?? There are literally hundreds of amazing snacks at Walt Disney World.
I'm including the snacks that are not only some of my favorites, but some are also considered "snack credits" on the Disney Dining Plan. I'm a firm believer in the dining plan but either way; these are great options no matter what your vacation package looks like. Let's break it down Park by Park!
Magic Kingdom: The #1 snack for me at Magic Kingdom is the Warm Maple Cinnamon Roll at Gaston's Tavern. This is a snack credit on the dining plan and $5 otherwise. It's WORTH IT. Oooey goooey delicious maple icing on a giant, fluffy cinnamon roll…this can feed 4-5 in one sitting. It's totally worth the sugar rush! * dining plan snack credit*
EPCOT This is nearly IMPOSSIBLE. Epcot has a wide range of snacks and treats in each country and the very best part of Epcot is being able to skip from country to country, trying new foods (and drinks if you are of age) in each! Here are my two very difficult picks at EPCOT: French Pavillion: L'Artisan des Glaces, Croque Glace: Your choice of 1 ice cream/sorbet flavor in a warm brioche, with your choice of sauce which is warmed and sealed. *This is not a snack credit BUT you can get a Macaroon Sandwich (with your choice of seasonal ice cream between two macaroons) with your snack entitlement. Though, I would pay for the Croque Glace if asked! Refreshment Port: Croissant Doughnut. You can get this amazing treat tossed in cinnamon sugar OR tossed in cinnamon sugar WITH soft vanilla serve ice cream. Both around $6 and so OR 1 snack credit!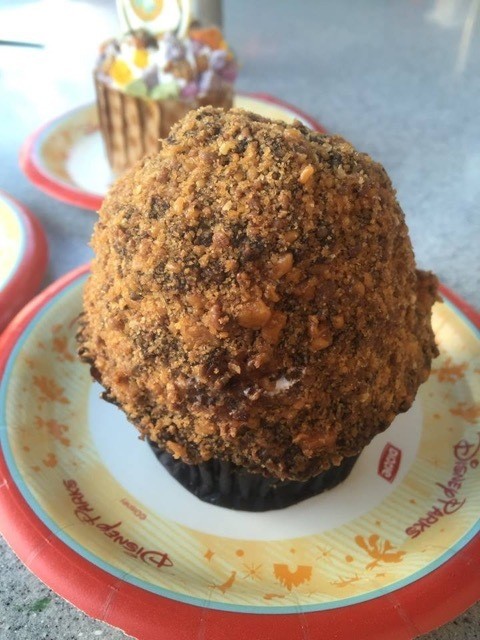 Hollywood Studios: My very, very favorite snack at Hollywood Studios is HANDS down the Butterfinger Cupcake. It used to be for purchase exclusively at Starring Rolls. However, Starring Rolls closed late year due in part to the massive overhaul of the park. Luckily the Butterfinger Cupcake was relocated next door to The Trolley Car (also known as Starbucks). This cupcake is a dream! Chocolate cake filled with fudge topped with vanilla buttercream that is dipped in a chocolate shell and rolled in Butterfinger candy pieces! HELLO DELICIOUS! This is often our breakfast when we are at The Studios. Oh and by the way, it's a snack credit, too! I like the sweet stuff, can you tell?
Animal Kingdom: My favorite snack at Animal Kingdom is very hard to pick. I love the eggrolls, the elephant ears, the zebra domes and I absolutely love love love love that I can get a Dole Whip with a splash of rum on a vacation day that just seems so appropriate in
the morning. However, Pandora opened last year and with that came some pretty amazing new food selections. Disney did everything right when they designed the food pavilions in Pandora. Though I love a million things about the quick service location (another time and another blog), the snack that stands out to me is the Pineapple Lumpia. Head over to Pongu Pongu to experience this amazing treat! I like to equivocate this incredibly satisfying treat to cheesecake that is fried on steroids! This amazing dessert is a mixture of cream cheese and pineapple that is fried in a light dough and rolled in cinnamon sugar. CAN.YOU. SAY. HEAVEN? It literally doesn't get much better than this! So there you have it – my top 5 favorite snacks in all of WDW!
This was definitely one the hardest things I've ever had to do! And just because I feel like I would not be doing you justice, I've listed my honorable mentions below. I hope you all have a wonderful time at The Walt Disney World Resort eating and trying new things! Do you have a favorite? Comment below and join the conversation! Honorable Mention: Cream cheese pretzel or any pretzel really, in all of WDW. (you can find the Mickey pretzel pretty much anywhere but the cream cheese pretzel is usually only found at The Lunching Pad in Tomorrowland) Fresh Fruit Waffle located at Sleepy Hollow: Oh my goodness! Giant Belgian waffle filled with hazelnuts spread and fresh fruit! There is also sweet and spicy chicken waffle for those that aren't too keen on all of that sugar. It's spicy and delicious! We have to mention the famous Dole Whip! It's light, it's delicious and pine-apply fresh. Located only at Aloha Aisle in the MK, Polynesian Resort (quick service) and Animal Kingdom Park at Tamu Tamu Funnel Cake at the American Adventure – fluffy, warm and a ton of powdered sugar! Absolutely perfect. Crepes from Crepes de Chefs De France (Epcot): Amazing and authentic French crepes! Watch them HAND PREPARE your crepe with your choice of butter & sugar, strawberry preserves, chocolate sauce, ice cream or hazelnut spread. Kakigori in the Japanese Pavilion: shaved ice with your choice of fruit syrups: strawberry, melon, cherry, tangerine, blue raspberry or rainbow (three flavors). You can also add a sweet milk topping! I could go on and on about the food about Walt Disney World! I hope this inspires you to try something you haven't before!
What is your favorite? Is it mentioned above? Let us know, we want to hear from you!
XO Steph
Resort Spotlight: Wilderness Lodge: A deluxe resort
So here's the thing, there are 30 Disney Resorts at the Walt Disney Resort and figuring out what is best for you can be slightly daunting.
The task at hand is to find what is best for you.
Our resort spotlight assists with JUST that!
Today's spotlight is on Disney's Wilderness Lodge Resort!
This happens to be one of my very favorite resorts in all of Walt Disney World. This is a deluxe resort, meaning it has all of the deluxe resort amenities. It's actually the very first resort we chose to stay at as a family when our oldest daughter was just 4 years old.
Walking into this resort makes you feel as if you are walking into a gorgeous cabin somewhere in Northwestern forest area. The feeling of grandeur overtakes you as you make your way through the front doors, past the "Welcome Home" sign.
As you stand in the lobby, you'll notice that everything here feels "big." The back of the lobby is made up entirely of windows. Eight stories of windows! The lobby is also almost completely made from lodge-pole pine imported from the forest or Oregon. To add to your already overloaded senses, there is a beautiful stream that flows from the outside in. You can hear the gentle flow of that stream as you head over to the counter to check yourself in for your visit.
This resort in itself is extremely peaceful, calming and serene. After a long day at the parks, this resort provides the perfect escape from the hustle and bustle, even though that very same hustle and bustle is just outside the door.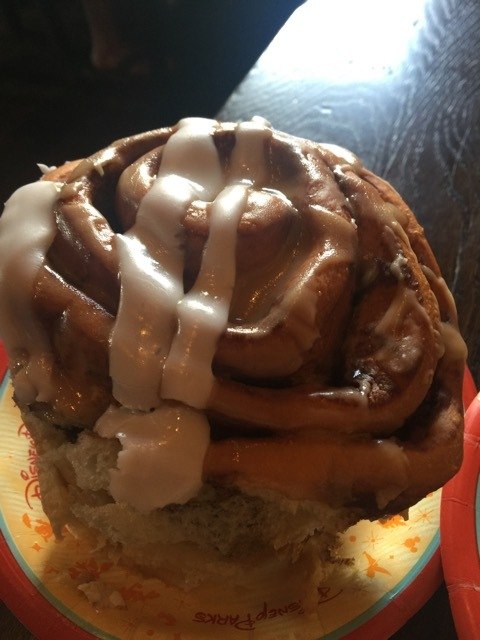 Cool facts about Wilderness Lodge:
There are two 55 foot totem poles that were commissioned by Disney from one of the world's most preeminent Native American historians and totem pole artists. These totems took over a year to complete! Did you know that these totems are known around the Lodge as the Eagle and the Raven totems? Can you figure out which is which?
The Fire Rock Geyser: Check out the Fire Rock Geyser between the Silver Creek Springs Pool and Bay Lake. This geyser was designed to imitate Old Faithful! Fire Rock actually shoots water 120-feet into the air every hour, on the hour until 10pm.
Be sure to check out the totem pole near the Wilderness Lodge Mercantile. You may see some familiar faces including Humphrey Bear, Donald Duck, Goofy and of course, the Mouse himself. Pro-tip: legend has it that if you rub Humphrey the Bear's nose when you first arrive at Wilderness Lodge, your trip will be filled with magic and pixie dust!
Flag Family – be sure to ask about being the flag family when you check in! If you time it right, you just might get the opportunity to visit the roof of the resort and raise the flag. We happened to have this amazing privilege one year and it was quite honestly one of the best experiences we've ever had! We could literally see ALL of Walt Disney World and basically all of Orlando — it was breathtaking in the early hours of the morning.
Types of transportation: Wilderness Lodge offers boat transportation to the Magic Kingdom, The Contemporary Resort and Fort Wilderness Resort and Campground. You can also utilize the bus transportation as well.
Restaurants: Two table service locations and two quick service:
Table Service:
Whispering Canyon: A hearty smoked BBQ that includes lots of fun with the servers! Noisy, intrusive, interactive and an all around great time with good food!
Artist Point: Signature Meal that is beautifully appointed with a flavorful contemporary fare from the Pacific Northwest. Try the Cedar-Plank salmon, their signature dish!
Quick Service/Bar:
Geyser point: The newest addition to Wilderness Lodge, located in the heart of the feature pool area. Lots of outdoor seating, an open air feel with a bar and counter to order whatever you would like.
Roaring Fork: Quick Service location that is open all day, with a small seating area. Soups, sandwiches, flatbreads and burger are the typical fare here.
There are just so many more great things about Wilderness Lodge that cannot be conveyed here! You just have to experience it for yourself! From the architecture, the dining, the amazing resort amenities…it's all here!
Have you stayed at Wilderness Lodge? What is your favorite part? Join the conversation and let us know your thoughts!
XO
Steph